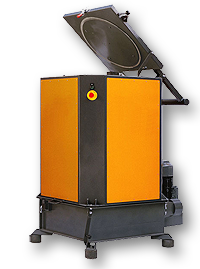 The Beaver crushes your waste wood.
You win more active space in the production area and a valuable biofuel!
Wood, chipboard and veneered waste will be chipped in granules easy to transport and stock. Briquetting is possible, too.
Easy to operate - less personnel cost
The Beaver works full automatically after filling!
Best quality and efficiency
You profit from a specially developed construction and a serial fabrication: 3 types, one price! The Beaver is a well tested Austrian high-quality product.
Placement - connection - start up
The Biber can be easily hooked up to a power supply system (network) and connected to a suction with a flexible tube. There is no need in any kind of foundation.
Compact and comfortable
The Beaver needs only a few space and can be easily placed everywhere.
Forceful and reliable
Wood waste will be uniformly chipped in small pieces like a kitchen mixer. On this functional principle nothing can interfere the process. Thus not only uninterrupted operating, but also extremely long Biber's lifetime is achieved. The ready chipped wood pieces will be sucked on the backside of the device.
Low-noise
Noise level amounts to 78 dB. It is essentially quieter than in others common woodwork machines


Show/download product folder